A level playing field for football
EFAA – Your professional football agency partner
ABOUT EFAA
A voice for players' agents
The European Football Agents Association ("EFAA") is a not-for-profit organisation, established in response to the pressing need in Europe for an industry-wide professional body that represents the collective interests of players' agents. EFAA's membership is comprised of national agents' associations in Europe and affiliated associations from across the world. Within the EFAA network of affiliates, we comprise over 1,000 professionally organised players' agents.
Why do agents need a professional collective body?
EFAA enhances agents' freedom to provide services across the EU by taking action to remove barriers to trade, which may include diverging agent registration and accreditation standards between states. We achieve this by engaging in specialised co-governance forums with important football stakeholders, states and EU institutions. Moreover, EFAA promotes free competition in the EU by taking action against federations and governing bodies that use regulations to entrench a dominant position that excludes agents from practising their trade.
The FIFA Regulations on Working with Intermediaries (2015) have removed FIFA's strict regulatory oversight on agent accreditation and quality standards. This regulatory gap has been met by diverging regulatory responses from national federations across the EU. Differences include qualification requirements, remuneration rates and disclosure duties. This divergence is problematic because an agent accredited in a member state must comply with different – and potentially stricter – requirements if he/she wishes to represent players in another member state. These challenges are particularly serious when there is a cross-border transfer between EU member states.
EFAA responds to these challenges by uniting agents across Europe into a collective professional body that advances agents' interests directly. EFAA's activities are aimed at establishing a self-regulated and sustainable football agency profession in Europe. This is achieved through EFAA's regulatory, commercial and economic leverage among the most important national authorities, EU institutions and decision makers in professional football.
EFAA acts in both representative and advisory capacities. In its representative capacity, EFAA represents its members at important regulatory and dispute resolution forums across the EU. In its advisory capacity, EFAA equips its members with updated legal advice and commercial guidance in order for members to comply with the latest regulatory developments in professional football.
Our aims
EFAA's primary aims are to:
take action to self-regulate the football agents' profession;
compile a concrete set of accreditation and quality standards, including criteria for the awarding of a registration certificate;
implement an EU-wide enforcement and dispute resolution mechanism;
promote the commercial image of football agents;
evaluate and exchange current national-level good practices; and
identify common positions between football stakeholders, and designate substantive fields of harmonisation that can be readily implemented based on existing EU institutional capacity.
OUR APPROACH
As a professional representative body, EFAA operates on express mandates from its members. This ensures a democratic governance structure that accounts directly to EFAA's constituents, who are ultimately the agents themselves. For the first time in the EU, EFAA has emerged as a guardian of the agents' profession and gives agents a voice in the regulation, development and image of their own profession. Our primary mandates are to:
coordinate the registration and accreditation of players' agents across jurisdictions in the EU, and facilitate compliance with regulations;
provide expert legal and practical assistance to national agents' associations on EU and national legislation, especially in contract and employment law;
facilitate amicable dispute resolution between agents and football stakeholders;
improve the commercial image of agents and football as a whole;
grow important professional links between the agents' profession and football stakeholders, EU institutions and regulatory bodies;
exchange good practices between national agents' associations; and
endorse common positions of member associations on policy issues.
THE WAY WE SEE FOOTBALL
Our expertise
EFAA's wide membership base of national associations across the world means that, as a member, your association will benefit from a collective voice in the governance of industry-level decisions. EFAA equips its members with the power to self-regulate their own profession, thereby safeguarding their interests. EFAA is the culmination of years of rigorous legal and practical expertise involving active industry knowledge and academic research. This knowledge is enhanced through the cross-border exchange of good practices.
Our governance structure
EFAA's Management Board is comprised of leading practising players' agents, lawyers and corporate leaders from across Europe. Their interdisciplinary expertise in professional football ensures that they are equipped to act in the best interests of agents at all times. Moreover, the vital professional relationships between the Board and football stakeholders means that the agents' profession is equipped to influence Europe's most important decision makers.
Rob Jansen
EFAA President
Rob, the President of EFAA, coordinates the strategy and business development imperatives of EFAA. He fosters crucial professional relationships with the most important stakeholders and decision makers in professional football. He was the first professionally licensed agent in the Netherlands, and is a director at the Dutch agents' association, Pro Agent. He has a player transfer portfolio spanning more than 25 years. Rob has represented some of the biggest names in professional football, including Dennis Bergkamp, Wim Jonk, Edwin van der Sar, Philip Cocu, Patrick Kluivert, Dirk Kuyt, Ibrahim Affellay, Stijn Schaars and Maarten Stekelenburg. He has also represented trainers including Bert van Marwijk and Mario Been, and the acclaimed best field hockey player in the world, Teun de Nooijer.
Giovanni Branchini
EFAA Vice President
Giovanni is the EFAA Vice President and the President of the Italian agents' association, AIACS. He has, for over twenty years, represented numerous football champions, including Clarence Seedorf – who won four Champions League titles with three different clubs – Ronaldo, Manuel Rui Costa, Romario, Jean Pierre Papin, Hidetoshi Nakata, Careca, Jonathan Zebina and Sebastian Frey. Giovanni co-founded Branchini Associati, a prominent sports firm that has negotiated transfers including those of Cristiano Ronaldo from Sporting Lisbon to Manchester United, and Luca Toni to Bayern Munich. His firm also represents a number of players in the Italian National Football Team.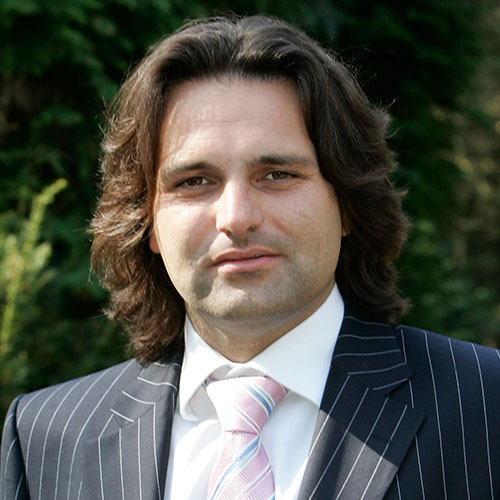 Roberto Branco Martins
EFAA General Manager
Roberto, the General Manager of EFAA, represents EFAA in cross-border legal transactions and at national regulatory authorities and EU institutions. He is a director at Pro Agent, the Dutch professional agents' association. He practises as an Advocate at the Amsterdam Bar and runs a prominent sports law firm, representing notable players' agents, football clubs, players and coaches. Roberto worked on international research projects for the Asser International Sports Law Centre in The Hague for over ten years. He lectures specialised courses in International, European and Dutch sports law and labour law at the University of Amsterdam. He publishes regularly in international sports law journals.
Bruno Satin
EFAA Board Member
Bruno Satin is one of the world's leading football agents and has negotiated some of the most resounding player transfers and transactions in recent years. Bruno has represented notable players including Lama, Michaël Landreau, Julien Escudé and Olivier Dacourt. He is the director of the global football division at the International Management Group, and frequently addresses important conferences across the world, including the Globe Soccer International Sports Conference.
Gregor Reiter
EFAA Board Member
Gregor is the Managing Director of the German agents' association, DFVV. He is a practising Attorney at Grüter Attorneys in Duisburg, Germany, and has expertise in sports law and finance. He holds a doctorate examining the regulation of player transfers following the landmark Bosman decision. He was formerly a professional underwater rugby player for 15 years, and won the 2005 German Championship with DUC Bottrop.
Leon Angel
EFAA Board Member
Leon was among the first professional football agents to be licensed by the English Football Association. He is also a licensed FIFA agent and represents many high profile international sports people and English Premier League players, from both the United Kingdom and other parts of the world. Leon is an accredited Chartered Accountant practising at Hazlems Fenton LLP, and serves as Chairman of BASE Soccer. His financial expertise equips him with a unique insight into the commercial elements of professional football, which involves increasingly complex financial transactions.
Manfred Schulte
EFAA Board Member
Manfred is a leading transfer negotiator at ProSoccer, Germany, where he has conducted over 150 transfers with a cumulative value exceeding 25 million Euros. He was the first agent licensed by the DFB in Germany and is an accredited UEFA Pro Licence coach. He was formerly the European Scout for English Premier League Club, Fulham FC, and also worked previously as Sports Promotion Manager in International Marketing at Puma.
Marcos Motta
EFAA Board Member
Marcos is a board member of the International Association for Football Lawyers (AIAF) and founded Bichara e Motta Advogados in Rio de Janeiro, Brazil. He acted as a legal counsel in some of the largest transactions in football, and in over 300 cases and arbitrations before FIFA and the Court of Arbitration for Sport. Marcos holds a Master of Laws (LLM) in International Economic Law from the University of Warwick (England) and a Master's Honoris Causa in International Sports Law from the Higher Institute of Law and Economics (ISDE) (Spain).
Partners
EFAA has gone through a thorough assessment before it has decided to enter into any form of partnership. The criteria for establishing a liaison with another party were not easy to be met. EFAA looks for a party that genuinely is able to assist EFAA in establishing one or more EFAA objectives. Also, the partner needs to have a proven track record in professional football and, last but not least, be a global player: offer global solutions on all levels, including the local one.
Become a partner